Our Mission
Our mission is to connect super innovators and super collaborators!
We want to remove the frustration of the collaboration process and transform it into a happy and calm process!
Because "We believe businesses and society as a whole would prosper if there were better access to the bright minds of academics, startups and high quality experts. Collabwith is a global platform to standardized collaboration for innovation, our value proposal is to simplify, digitalize, accelerate the collaboration process from searching your partner until starting collaborating. It's a one-stop-shop including search engine, making request, negotiation, legal and payment by using our own technology. "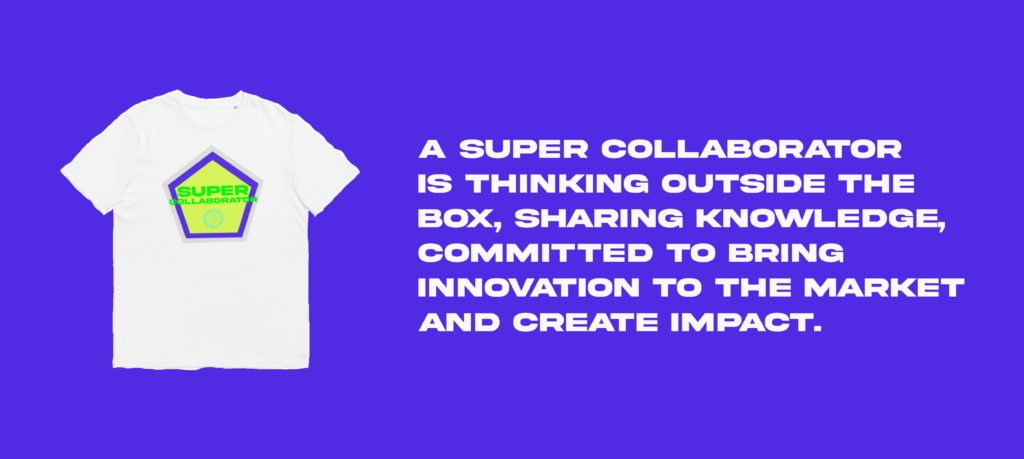 Our Fashion Manifesto
We believe that the fashion industry can bring more to the table. By being sustainable, we are thinking of being social, of being inclusive, of doing good, of using organic materials, of reusing materials before recycling and of thinking with purpose and consciousness of our actions, even the small details have to count. Our products are using 100% organic cotton, they are made and print on demand (zero stock), every purchased product is supporting operations of the Collabwith platform and our free mentoring to entrepreneurs, academics and corporates to collaborate. All our garments and products are unisex per design and our designs have the intention and purpose to drive a change in the society. We advocate change to increase academic-industry collaborations, to bring research to life and to share knowledge and we are working for this at European Parliament level. Organizations have to use your innovative solutions coming from academia and the startup ecosystem. Also, our message is to bring people together for innovation and entrepreneurship with common sense and emotional intelligence.
Spread the message! Get innovative solutions from Startups and Academics!

Our Shop Collabwith
This is the online shop of the Collabwith platform and it was born to bring a physical space and physical products to complement a digital platform. As we love positive vibes and positive inspiration, we created t-shirts and mugs not only as a Collabwith merchandising, but also as a way to bring "quotes" to life. Yes!! Those quotes you find in the login page of our Collabwith platform, you can look at them here! You have more than 300 inspirational quotes in the login page, so, every time you do a login, you have a new quote to inspire you!
Now, you can "buy" those motivational quotes in a form of a mug, or t-shirt to have a little reminder in your desk, in your kitchen, in your wardrobe that everything is possible!
Collabwith Group includes the platform Collabwith for Collaborative Innovation, Collabwith Academy, the Collabwith Magazine, the podcast Business of Collaboration and the Collabwith Consulting service for Executives and C-level called Executive Collabwith (if you are a C-Level Executive you can contact us and request the password to enter this exclusive area – hello@collabwith.org).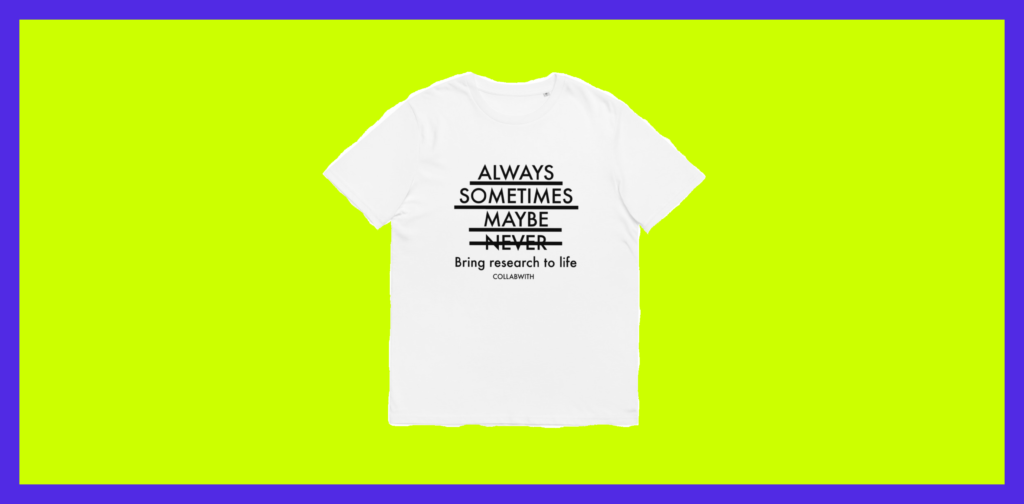 Our Designs
Jara Pascual as a passionate creative artist and oil painter is designing every t-shirt, mug and bag during idle times between running the Collabwith platform, writing, interviewing, etc. Photographs and creative styling is done by Alejandra Nettel and in some cases by Jara. If we need any help, we have our mothers-in-law team's members who are helping us with latin translations! Mrs. Maria del Pilar Lecuona Catalán, our particular latin teacher created the latin sentences "Innovatio et Consociatio Opera" which means of course "Innovation and Collaboration" in our "Collabwith College" t-shirt and sweater.
Every design is reviewed by our Collabwith team members Virginia Vila, Christian Schultz and our family and friends before going life in our Shop Collabwith. Further, we are using the Printful platform to produce and ship our products on demand, which is incredible easy to use, super efficient and super professional.
You find in our shop the "Community Collections", these t-shirts are designed together with our Collabwith members from our Collabwith Community, professionals, entrepreneurs or academics who want to make a statement or who have a meaningful saying with purpose. Do you have something to say? Are you part of the Super Collaborators and Super Innovators Collabwith community? Contact us, and we collaborate! 🙂
You can meet the full team behind Collabwith, here.
Are You Looking For a Community Of Innovation Ready To Collaborate?
Join the Collaboration for Innovation Platform, here.
Follow Us In Instagram!